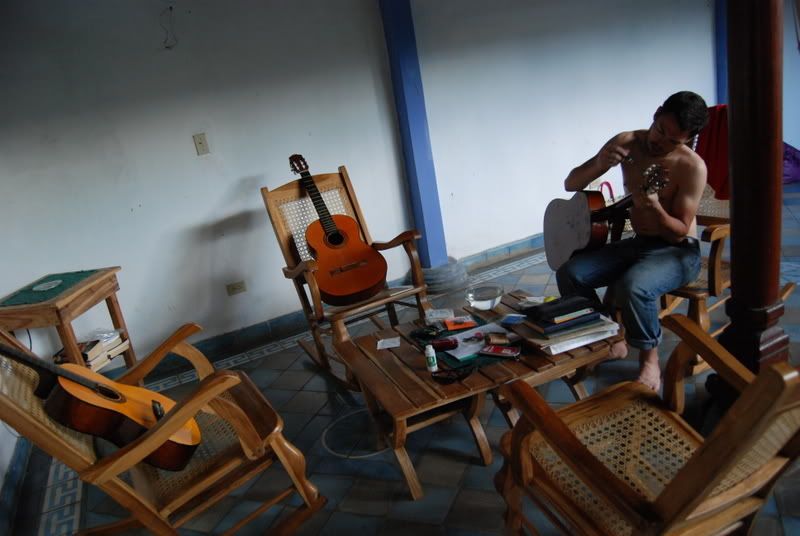 I recieved three guitars today. I cleaned them of their cobwebs, changed their strings and polished them. They are ready to be played!


Here in Granada, I have been assigned to teach at 3 different schools that are affiliated with our volunteer organization, Building New Hope.


At La Epifania, I have been given two classes a week to teach the 5th and 6th graders how to play guitar. Unfortunately, there are only 5 guitars and 15 students. Fortunately, I teach the 5th graders on one day and the 6th on another.


At Las Camelias, I have been given two choir classes. I teach the 4th graders on Wednesdays and the 2nd and 3rd graders on Tuesdays. It is an amazing opportunity to be able to teach music in spanish and I feel like at this point in my life, it is the most helpful thing I have ever done for everyone involved, including myself.


At Quinta Los Chevalos I teach guitar every Thursday from 2-4. There is actually a music room! They have 5 guitars and I teach about 3 kids at a time. It is great because I am able to get through more material with them because there are so few.


Here in Nicaragua they really value music, even more so because they do not have access to a standard music education in the first place. I realized today that even if these kids only receive 5 or 6 music lessons it could at least help shape their own interests. At least I will have introduced the idea of guitar and singing to them and for a few it might spark some greater ambition.


To be a volunteer in this country is to understand that you are a very small minority working for a relatively small amount of time with usually small children with small hopes. The direct effects of your work might not be immediately seen or felt but every time you do help, inside you must know that you are contributing to the well-being of the children, the community, the culture and the future and that is larger than anything I have been able to do otherwise.